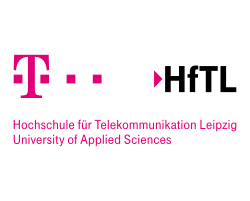 Hochschule fur Telekommunikation Leipzig
(HfTL)
HfTL is a private university under the patronage of the HfTL Trägergesellschaft mbH – a wholly owned subsidiary of Deutsche Telekom AG. It has full recognition by the Ministry of Science and Art of the federal State of Saxony, making it the only corporate-funded private university in Germany. HfTL specializes in academic teaching, research and training in the field of information and communications technologies (ICT) and management.
Students Zagreb 2018
Khaled Sherif TeamSoc21 Zagreb2018 Student

Ravali Vemula TeamSoc21 Zagreb2018 Student

Kaab Rustam TeamSoc21 Zagreb2018 Student

Abdul-Razak Musah TeamSoc21 Zagreb2018 Student

Alexander Leipnitz TeamSoc21 Zagreb2018 Student
Students Valencia 2019
Abdul-Razak Musah TeamSoc21 Valencia 2019 Student

Emmanuel Boakye-Gyau TeamSoc21 Valencia2019 Student

Mark Legostaev TeamSoc21 Valencia2019 Student
Innovation
How do we innovate at the Hochschule für Telekommunikation Leipzig?
HfTL is the only corporate German university which is specialized on ICT. The study programs are continuously brought in line with the technical and societal development.
ICT
How do we use ICT to tackle societal challenges?
As DT as one of the leading ICTelcos set & follows trends in order to facilitate and improve daily life with ICT products, HfTL plays an important role in the relevant field in both education&research.
Intercultural
How do we promote intercultural environment?
HfTL is a globally acknowledged specialized university, offers study programs in ICT for students from all over the world. It is a leading partner of the European network of comparable universities.